Panasonic Solar panels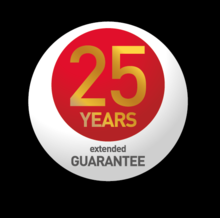 High Efficiency panels from a well-known consumer brand. Now with 25 year guarantee (installer registration and system registration required)
Panasonic make very high efficiency panels using a combination of mono-crystalline silicon and amorphous silicon to make the very best use of the surface area.
Combined with noticeably superior build quality and a great brand name, these are an obvious choice for discerning customers and for small or awkward roofs.
With their slim dimensions and light weight, the 240 and 245W panels are also a delight to fit!