Sunamp Heat Batteries
View the latest range of Sunamp Heat Batteries at competitive wholesale prices from the UK's best renewables distributor.

Sunamp's Thermino Heat Batteries are designed to efficiently store heat for domestic hot water systems. Their super-compact Heat Battery technology offers a uniquely clean, safe, compact and very low maintenance thermal energy storage solution.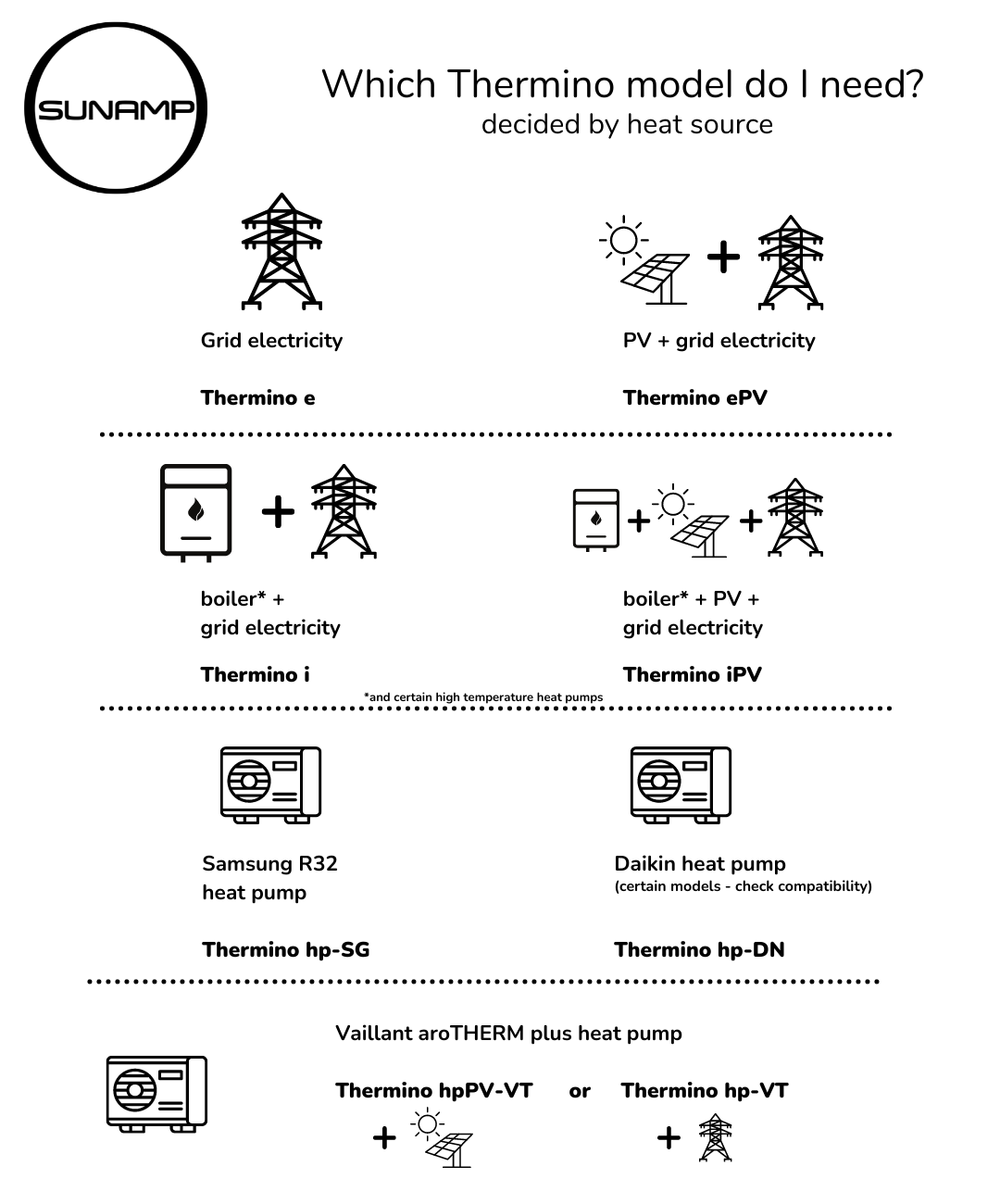 Using the non-toxic phase change material (PCM), sodium acetate trihydride, they can be charged with a variety of energy sources:
electricity from the grid (e.g. at off-peak rates)
air source heat pumps,
solar PV systems
ground source heat pumps
They can be retrofitted to existing hot water systems, or specified for use in new build projects. Sunamp Heat Batteries can substitute a standard hot water tank in a fraction of the space.
With a lifespan of up to 50 years, and very little maintenance required, they are proving popular with housing associations too: They massively reduce the risk of Legionella and the cleaning requirements of typical hot water systems, on top of the space-saving for occupants.
The Thermino batteries are available in different models for different heat sources. The numbers in the product names represent equivalent hot water cylinder size.

For domestic hot water we recommend the Thermino 150 (6kWh) battery for 1-2 bed properties; Thermino 210 (9kWh) battery for 3 bed properties; Thermino 300 (12kWh) battery for 4 bed properties.
For compatibility with different heat pump models please contact us for advice - not all heat pumps are compatible with Sunamps and selection of the appropriate Sunamp for a particular heat pump may not be obvious.
To convert from old UniQ model names to new Thermino product names use this sheet.