MC4 4mm cable connector pair
MC4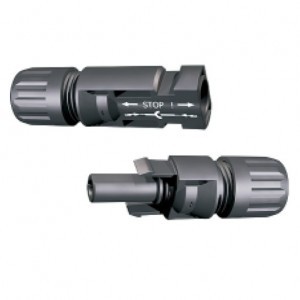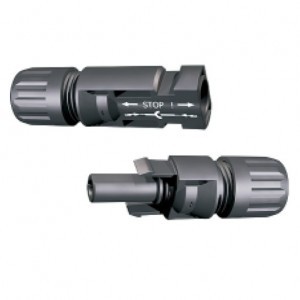 These high quality waterproof locking connectors can be used to make reliable, long-lasting connections to solar panels and inverters.
Many types of solar panels are fitted with these connectors as standard, but they can be also be fitted to other solar panels on request - or indeed used for any other outdoor cabling application. The connectors are compatible with our 4sqmm solar cable. They can also be fitted to any cable with an outside diameter between 5.5 and 9mm - please send us an enquiry for pricing and availability for different diameters.
A special crimping tool is highly recommended to ensure a good secure connection to MC4 connectors.
Part number: 96319 MC4 Connector 2-pack 32.0014P0001 x 2 / 32.0015P0001 x 2
Note: Part number above references 2x male and 2x female connectors but the price is for a single male and female pair (as pictured).