SolarEdge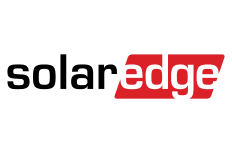 SolarEdge Smart Solar modules are integrated with SolarEdge power optimisers to maximise panel performance and facilitate individual panel monitoring. Integrating the optimiser and the panel means a simpler installation process, and quicker mapping of the array in the monitoring app.
Optimisers track and modulate the performance of each module, to overcome any differences resulting from shading, orientation or module mismatch. The SolarEdge optimiser system will reduce the impact of these differences to maximise the power of the system, and ensure a quicker return on the investment for domestic and commercial installations.
The SolarEdge also includes module-level monitoring via an online portal which is compatible with smartphone apps.
The SolarEdge optimisers carry a 25 year warranty and feature a unique SafeDCTM mechanism which shuts down DC voltage and current of every module as soon as the system is disconnected from the AC supply for greater safety during maintenance or in the event of a fire. The modules themselves carry a 15 year warranty.
Read the full list of benefits.
SolarEdge have recently seen an increasing number of system upgrades - please read the best practice guide for these.
Follow the links for more information on the designer and the monitoring of SolarEdge systems.